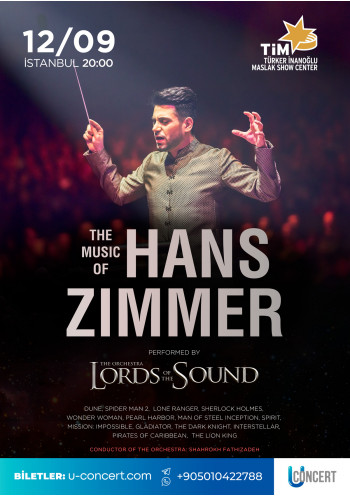 Lords of the Sound "Hans Zimmer'in Müzikleri"
The famous symphony orchestra "Lords of the Sound" presents the musical program "The Music of Hans Zimmer", which encompasses the most famous compositions of the musical genius of our time, Hans Zimmer!
"The Music of Hans Zimmer" is an exhilarating journey into the world of unique sounds, bringing the extraordinary atmosphere of cinematic masterpieces to the stage through the performance of a symphony orchestra.
Hans Zimmer is one of the most influential and prominent creators of contemporary film soundtracks. He has established himself as a master of epic music, crafting unforgettable musical accompaniments for numerous global blockbusters.
The program "The Music of Hans Zimmer" will feature compositions from iconic films such as "Dune", "Spider-Man 2", "The Dark Knight", "Interstellar", "Gravity", "Sherlock Holmes", "Angels & Demons", "The Da Vinci Code", "Pearl Harbor", "Gladiator", "Mission: Impossible", "Inception", "Pirates of the Caribbean", "Spirit", "Wonder Woman", "Madagascar", "The Lion King", and "007: No Time to Die".
Hans Zimmer's music holds a special place in the contemporary film industry, transporting us into the heart of cinematic events and evoking vivid emotions from the very first note. We invite you to join us on this musical journey, which promises unforgettable impressions!
The concert features musicians from the "Lords of the Sound" orchestra.
Conductor: Shahrokh Fathizadeh
Soloists: Yaroslav Radionenko and Yaroslava Taran
https://www.facebook.com/lordsofthesound
https://www.instagram.com/lordsofthesound/
https://www.flickr.com/photos/182063750@N08/