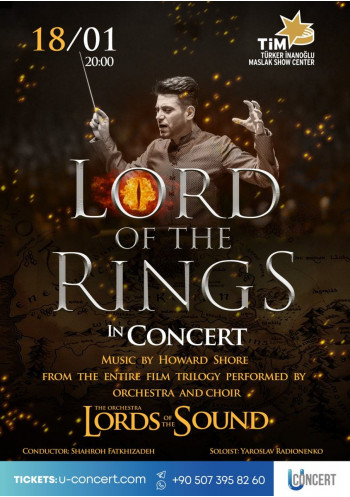 Lords of the Sound. Lord of the Rings in Concert
The magical and fantasy world of hobbits and elves comes to life thanks to a musical-visual performance performed by "Lords of the Sound Symphony Orchestra".
A two-hour magnificent concert with the participation of a symphony orchestra, choir and soloists! The "Lords of the Sound" orchestra has already managed to impress the Turkish audience with a brilliant sold-out concert with a program of Hans Zimmer's hits and is pleased to present its new program in Istanbul!
From the joyful melodies of the hobbits to the menacing sounds of Mordor and the lyrical songs of the elves, Howard Shore's Oscar-winning score for the acclaimed The Lord of the Rings movie trilogy will resound with new force, creating an unforgettable atmosphere of Middle-earth.
The moment has come when we are happy to present to your attention a musical story - a new program
"Lords of the Rings in Concert".
We look forward to seeing you at the live concert of the fairy tale saga in the world!"