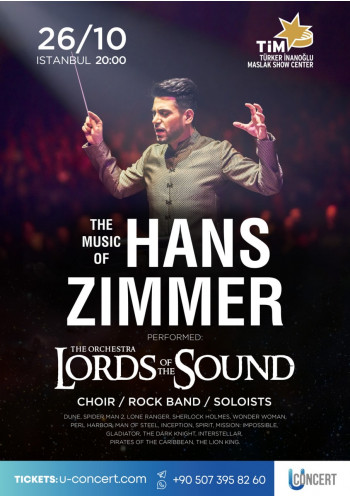 Lords of the Sound. The Music of Hans Zimmer
Remained
69 tickets
before the price increase!
October 26 at 20.00 Lords of the Sound orchestra as part of a European tour for the first time in Turkey with a new program "Music of Hans Zimmer"
The amazing success of the concerts of the Lords Of The Sound orchestra, combined with the best compositions of Hans Zimmer, will immerse you in the unforgettable sensations of a warm autumn evening, the atmosphere of a beautiful fairy tale filled with the beauty of the symphonic sound of your favorite compositions, a rock band, and vivid visual effects. and the unbridled positive of the whole team!
Dune, Spiderman 2, The Dark Knight, Interstellar, Gravity, Sherlock Holmes, Angels & Demons, The Da Vinci Code, Pearl Harbor, Gladiator, Mission impossible, "Inception", "Pirates of the Caribbean", "Spirit", "Wonder Woman", "Madagascar - hits by Hans Zimmer, performed by the famous symphony orchestra Lords Of The Sound!
The concert is attended by musicians from the Lords of the Sound orchestra.
Soloists: Margarita Meleshko and Yaroslav Radionenko
Conductor: Shahroh Fatkhizadeh.